Rooftop Tent 4×4 Car rental Burundi Car Hire 2022/2025
Rooftop tent Burundi: Explore Burundi, Congo, Rwanda, Kenya, Tanzania & Uganda from the comfort & safety of a rooftop tent 4×4 rental car on a self drive safari
Have you ever wanted to  to explore  Burundi, Congo, Rwanda, Kenya, Tanzania and Uganda from the comfort and safety of a roof top tent 4×4 rental car? Now is your chance! At 4×4 car rental Burundi, we offer comfortable and affordable 4×4  self drive safari tours available to both residents and non residents of Burundi with a passion for road trip travelling.
4×4 car rental Burundi is here to help you encounter your dream of seeing Burundi and other countries in Africa through a self drive 4×4 car rental adventure and we are still helping many more travelers to bring their dreams to life.
Choose our roof top tent hire today with 4×4 car rental Burundi to make your 4×4 self drive safari a trip to remember. Whether you choose to hire a driver or prefer to drive your own adventure at your own freedom and pace, we are more than ready to provide you with a roof top tent rental car for your unforgettable self drive tour.
We looking forward to helping you see Burundi, Rwanda, Congo and Uganda through new eyes, from the comfort and safety of one of our meticulously maintained 4×4 roof top tent rental car.
Roof Top tent Rental cars and hire Vehicles
LANDCRUISER TX/TZ WITH 1 ROOF TOP TENT
The 4×4 land cruiser  TX/TZ adventure-ready vehicles, comes with fully equipped roof-top tents. Burundi,  is a perfect place to experience camping in an iconic 4×4 expedition. Experience sleeping in a rooftop tent under the stars, lounging in a spacious camping furniture by the fire and making delicious camping food.
The vehicle has automatic transmission, uses petrol gas, seats 2-5 pax, air condition, the vehicle also has a popup roof.
Book Now
LANDCRUISER V8 WITH A ROOF TOP TENT
With Landcruiser v8 you can Balance the highway drivability and off-road performance, and are intuitive and a joy to drive. Ours cars come equipped with all weather awning, 2 person roof top tents, and all the needed camping gear. Features
include;
2-5pax
Air Condition
two air bags
Height Control
Power steering
pop up tent/roof
Book Now
LANDCRUISER GX WITH 2 ROOF TOP TENTS
Are you on the hunt for an incredible camp-ready rental? Whether you're hoping to visit the National Parks or explore the upcountry, our ideally equipped 4×4 Landcruiser GX is built for the adventurous traveler.
The 4WD features;
each roof top tent accommodates 2 pax
Manual transmission and consumes diesel with two fuel tanks
upto 5 pax with enough luggage room but can be able to carry upto 7 pax incase you will travel without luggage
has an air condition and
radio
comes with 1 spare tire
roadside assistance & inclusive comprehensive insurance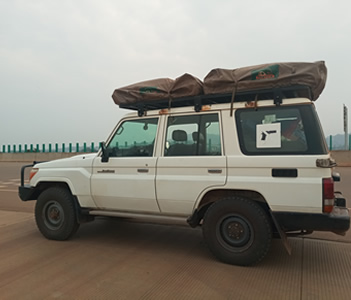 LANDCRUISER LX WITH 2 ROOF TOP TENTS
The land cruiser LX rental is renowned for being one of the most capable 4×4 adventure vehicle built. When coupled with roof-top tents, camping equipment, and an adventurous will, the vehicle will take you anywhere you wish to go. We strive to get you there.
it also features
manual transmission
Seats 2-5 pax
contains diesel fuel tanks
Comprehensive insurance and 24/7 road side assistance
Book Now
Land Cruiser Old Series With Roof top tent
2-5 pax
Manual transmission
No air condition
model 1987
Strong and in perfect condition
Book Now