Car Rental Congo; 4×4 Self drive car Hire, Long term Car rental & Driver Hire
4×4 car rental Burundi offers self drive or chauffeur drive car hire  and car rental in Congo  with or without roof top tents for both short term and long term car rental at affordable rates. The cars on offer are flexible, reliable, lowest cost and easy rental fleets that are capable of handling all terrain roads of Congo.
4×4 car rental Burundi  offers great Congo car rental deals to clients who wish to explore Congo attractions such as Nyiragongo volcano hike, Mountain gorilla trek, Eastern lowland gorilla trek,  Mount Kahuzi and Biega hike,  visiting Lwiro chimpanzee sanctuary among others.
4×4 Long term Car rental and Waste management deals-Car Rental Congo
4×4 car rental Burundi, has extended at length to offer long term car rental in Congo with or without a chauffeur/driver to business projects, occasional projects, Organizational projects, individual projects, airport transfers at cheap rates.
On the other hand, we have also decided to provide a trucks for both waste and Garbage collection. Therefore, it has been our concern to solve your waste management problem today.
4×4 Self drive tours-Car Rental Congo
4×4 Car rental Burundi, though a car hire company, is also capable of designing your adventure itinerary so that you can enjoy your dream come true safari package.
The car rental fleets provided for Congo car hire are in condition, frequently serviced, and are our very own cars, without third party rental. The variety of rental fleets mostly consist of 4×4 Toyota Rav4's, 4×4 Land cruisers, double cabins, trucks, pick ups, 4WD vehicles among others.
Rav4-3 doors
A 4X4 SUV capable of carrying 2– 3(2 preferably) Passengers with enough Luggage space. It has AC and is perfect for travel to remote areas including national parks. Best for roadtrip adventure.
Land cruiser TX/TZ
A strong 4×4 Toyota Land Cruisers TX, TZ for hire in Congo. Features Air Condition, takes up to 5 passengers, both diesel & petrol, Manual or Automatic.
Land Cruiser V8
4×4 Safari Land Cruiser with/without rooftop tent for Congo self drive car rental & hire. Features Air Condition, takes up to 5 People, both diesel & petrol,
Land Cruiser Extended
4×4 Toyota Land cruisers extended, is a self drive Uganda cars for rough terrains.diesel & carry 5-7 pax featuring great interior & enough luggage space.
Double Cabins
Suitable for projects and Long term Car rental and Hire in Congo. Features Air condition, consumes petrol, seats 2-5 persons, enough luggage space.
Car rental Vans
Rental vans for hirenin Congo, best cars for small group travel (6 -12) Passengers, for long term car rental and hire.Air conditioner, Manual and Automatic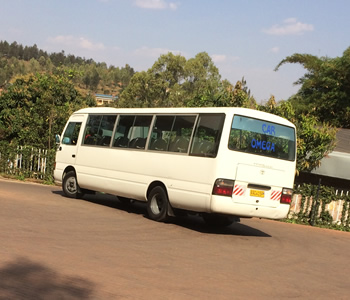 Rental Buses
Rent a bus for your long term car rental business in Congo. It can handle both small groups and large groups, with a carrying capacity of 12 -28 Passengers.
GARBAGE COMPACTOR
Sturdy truck for long term rental and hire for all garbage collection within Congo.Built to handle the collection of large quantities of refuse.