4×4 Car rental Botswana: Cheap Long Term Car rental and Driver hire Deals
Looking for a rental car in Botswana?  Find cheap 4×4 rental cars for self drive hire or driver hire to explore Botswana. With 4×4 car rental Burundi, you can rent a car in Botswana from main stations, major airports, and easy reach locations. We offer a wide range of 4×4 rental cars which are mainly Land cruisers and Toyota Rav4's, while others include minivans, double cabin pick ups, trucks, buses seating from as low as 2 to 24 passengers.
4×4 car rental Burundi provides an extensive array of services in Botswana at great cheap car rental deals including short and long term car rentals, rooftop tent car rental, chauffeur hire, GPS hire and camping gear hire. Booking  a car as well as other services in advance will save you money on your car rental deals in Botswana and can help ensure the extras you want are available for your rental car.
Our 4×4 Car rental Fleets and Long term car Hire Deals-Car Rental Botswana
With 4×4 car rental Burundi's great long term car rental deals, renting a car for a month, week, month,  or longer is cost effective. If you have long term travel plans or simply need a replacement vehicle, renting a car for a month or more , Long term car rental is the perfect solution. 4×4 Car rental Burundi offers the opportunity to save money, that is to say-the longer you rent, the more you save.
With a wide array of vehicles and extensive customer service, we make renting long term rental car simple, easy and affordable, you can easily rent a car to match your  Botswana needs, whether budget, mid range or classic . Save more with an economy rental car or opt for a luxury rental for your next vacation, business trip or special occasion etc. All our 4×4 rental vehicles in the Africa come with automatic transmission.
Whatever you have in mind, Book an instant low cost car hire quote online and find great deals on Botswana safaris, self drive and chauffeur driven car rental and Long term car rental in Botswana.
Land cruiser Tx
seats 4 Passengers, 4X4/ 4WD, With or without Pop-up roof, Special Offers Available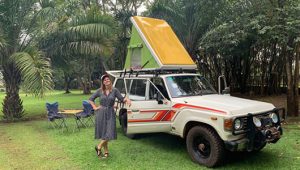 Rooftop tent Rental
seats 4-5 Pax, manual, enough luggage space, price includes camping gear
4WD Toyota Safari Van
customized with an open roof hatch for safaris in game parks. carries up to 9 passengers.
Toyota Rav4
Seats 2 Passengers, 4WD, Air condition, enough luggage space, suitable for long  term car rental
Double cabin-Pick Up
Best for long term and short term projects in Botswana, business travelers, Has Ac, seats 4-5 pax
Airport taxi
Rent an airport taxi or airport shuttle for transfer from the airport to your hotel, home, etc
Extended Land Cruiser
Efficient for all terrain roads, 4WD, manual transmission, seats 2-7 passengers,has  AC etc
Bus Rental
Travel in Comfort, Best for family trips, picnics, vacations, corpreate travelers, seats 7-44 passengers,